News
MORIS CUP Jahodna 2013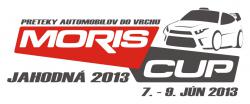 5th Moris Cup Jahodna 2013 will be held in the date 7. - 9. júna 2013.
Our event will count for three FIA championships - FIA Hill-Climb Challenge, FIA European Hill-Climb Cup and FIA Historic Hill-Climb Championship and also for two national championships - Slovak Hill-Climb Championship and Polish Fill-Climb Championship.
Co-organizer of the race is Moris Slovakia s.r.o. company.
Recreation resort on Jahodna will be again centre of this event.
Členovia Auto Klubu Košice sa v týchto dňoch už intenzívne venujú príprave podujatia. Zaoberajú sa najmä vyriešením otázok, ktoré boli problematické pri vlaňajšom priebehu pretekov - a to priestor v servise a časový harmonogram pretekov. Veľkú pozornosť venujú aj výsledkom bezpečnostného auditu, ktorý v jesenných mesiacoch vykonala FIA komisia PAV na všetkých podujatiach zaradených do FIA Challenge a Cup-u.
Veríme, že sa nám podarí pripraviť podujatie ku spokojnosti všetkých účastníkov
<< back to news
all rights reserved Auto Klub Košice © 2009

made in europe - rollyweb.sk