News
Moris Cup Jahodna received FIA approvalare published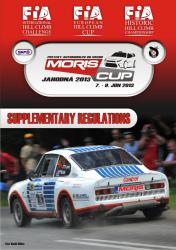 It seems that 7 June 2013 is very far .... , but there is no so much time to the start of MORIS CUP Jahodná 2013. Organizers from Auto Klub Kosice and Moris Slovakia are working on the preparing of the event already longer time.
FIA and SAMŠ approved
Supplementary regulations
of the event during these days, it means that entry started too.
Moris Cup Jahodná - in the same date as last year - but the race will be fourth hill climb event counting for Slovak Hill-Climb Championship this year (last year it was second). Firs "home" race will be Ozdianske serpentiny and following two races will be in abroad - in Polish Zaluz and in Czech Sternberk.
For participants of the FIA international Historic Championship it will be fourth event  - first will be held in Austrian Rechbergu, next Portugal Rampa Int. da Falperra and than already Czech Stenberk.
Drivers whichh take part in the FIA International Challenge and FIA European Cup will meet in Spanich Subida A Ubrique and during two races in Italy - Monte Erice and Verzignis before they arrive to Jahodná.
Some weeks ago organizers published Race guide, which is dedicated meanly for competitors from abroad, which are preparing for their first start on Jahodná hill. They can find in the "guide" a lot of very important information, which can help them during preparing for this race. Race guide is available
here
.
<< back to news
all rights reserved Auto Klub Košice © 2009

made in europe - rollyweb.sk